Pawn Shop in Wilmington, NC
Picasso Pawn
Picasso Pawn
Wilmington 8
5030 Market St
Wilmington
,
NC
28405
Store Hours
Monday through Saturday 9am-6pm
A Pawn Shop Like No Other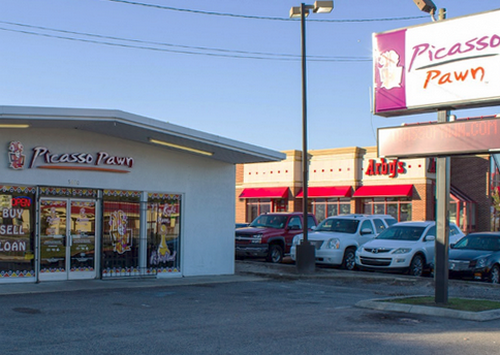 Picasso Pawn is a North Carolina Company serving Raleigh, Durham and Wilmington. For over 35 years we have strived to be "Like No Pawn Shop You Have Ever Seen"!
We maintain a clean and professional environment to pawn, sell or purchase almost anything of value. We have a broad selection of quality pre-owned merchandise, including new and restored fine jewelry.
If you need a cash loan, look no further. Contact us today. We provide quick, confidential loans with NO credit check! We have been in business for over 35 years and provide a friendly alternative source of funds. If your week or month has run longer than your paycheck, come and see us.
INSTANT CASH! ē NO CREDIT CHECK ē NO HASSLE
No one pays higher prices than we do
We have been in business for over 35 years! Our commitment to our customers has allowed us to stand the test of time. We work hard and treat each customer with respect and compassion. Most importantly, we pay more! When you pawn with us, you get instant cash!
What we take
We accept almost anything of value. We can pawn or trade your well treated merchandise, or we can simply buy them from you. The best way to know if we will accept something from you for buy or trade is to ask yourself "Would I buy this?" If you would buy the item yourself, then more than likely we will too!
Our pawn shops are more helpful than a bank because you can borrow small amounts of money without hassle. We donít need financial information, proof of employment and, you never have to fill out a loan application. All you need is a valid form of government issued identification to receive cash immediately.
Visit your store in Market St in Raleigh, NC and receive premium customer service from our knowledgeable and professional staff.