Pawn Shop in Wilmington, NC
Picasso Pawn
Picasso Pawn
Wilmington 7
1702 Dawson St
Wilmington
,
NC
28403
Store Hours
Monday through Saturday 9am-6pm
A Pawn Shop Like No Other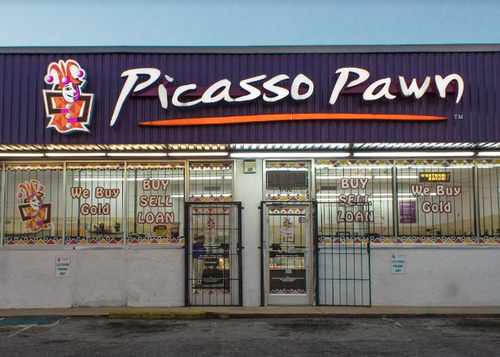 Picasso Pawn is a North Carolina Company serving Raleigh, Durham and Wilmington. For over 35 years we have strived to be "Like No Pawn Shop You Have Ever Seen"!
We maintain a clean and professional environment to pawn, sell or purchase almost anything of value. We have a broad selection of quality pre-owned merchandise, including new and restored fine jewelry.
If you need a cash loan, look no further. Contact us today. We provide quick, confidential loans with NO credit check! We have been in business for over 35 years and provide a friendly alternative source of funds. If your week or month has run longer than your paycheck, come and see us.
INSTANT CASH! • NO CREDIT CHECK • NO HASSLE
Western Union Authorized Agent
Send and receive money to and from 200 countries and territories. Western Union has more than 500,000 Western Union agent locations worldwide. Send money to almost anywhere in the world, from just about anywhere in the world.
Check Cashing
We cash checks! Why wait in long bank lines? Cash your check with us!
It never fails. You walk in the bank during your lunch hour and only one teller is working. You waste your whole hour getting to the front of the line only to be told that you don't have the proper documentation, or account or whatever. Not at Picasso Pawn! We pride ourselves in fast turnarounds. We make sure that our valued customers do not wait in long lines.
Visit your store in Dawson St in Wilmington, NC and receive premium customer service from our knowledgeable and professional staff.